As a European leader in rearview mirrors for more than 50 years, Vision Systems' Business Unit SAFETY TECH set up a dedicated competence center specialized in embedded vision and image analysis processing to develop Advanced Driver Assistance Systems for buses, coaches, recreational vehicles and specific vehicles. These innovative solutions provide improved comfort and safety and operate day and night, in any weather conditions, and in any driving environment.
SAFETY TECH also bases its reputation on its expertise in new generation driver protection doors, made of composite and customizable.
Our systems are all suitable for original equipment or retrofitting.

Camera Monitoring System
Innovative system – R10 & R46 approved – Safety Tech's Camera Monitoring System replaces traditional mirrors with high-definition digital cameras and interior displays, for optimized visibility and enhanced ergonomics. Compared with standard rearview mirror, the interior displays eliminate glare and the automatic adjustment of the screen's brightness ensures excellent visibility in all lighting conditions.
The system allows a high return on investment by reducing fuel consumption and maintenance costs while maximizing the vehicle's availability.
Savety-Mirror and Savety-Front solutions can be added to the system as driver assistance systems options.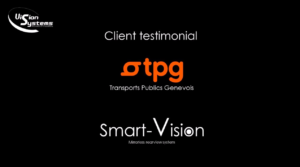 TPG talks about our Camera Monitoring System!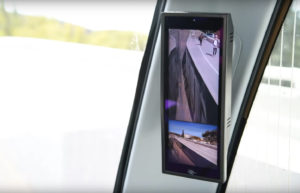 Our Camera Monitoring System in Irizar ie-tram
Savety-Front: the solution for frontal blind spot areas
The Savety-Front solution is most particularly designed for urban vehicles. Based on intelligent and configurable sensors, the system alerts the driver when a risk of collision with vehicle, cyclist or pedestrian is detected. This potential risk is identified thanks to paths comparison, taking in account the road users' position, speed and direction.
Savety-Front enables to reduce the number of accidents and to cut maintenance and insurance costs.
Savety-Mirror: the solution for lateral blind spot areas
The system alerts the driver of a potential danger in the blind spot area by switching a light on. Comprising cameras and a display, it also allows the driver to have an optimized view of their environment and to better evaluate the distance between their vehicle and the other road users.
Savety-Mirror provides extended visibility for relaxed driving, the perfect solution for motorhome!
Savety-Door: the new generation of driver protection door
With over 15 years of experience in driver protection doors for buses and coaches, this solution is customizable to meet our customer's requirements: color and design of the trim, shape of the window, fixed or sliding, day/night option.
More safety: partial or complete separation between driver and passengers
Robust and lightweight, no vibration
Lower maintenance costs: durable solution, few components, easy access (90% of operations without immobilization)
Easy to install, original equipment or retrofitting