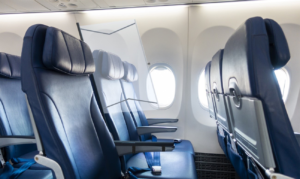 Passenger protection at each seat
Vision Systems' quick-split system,a fast and easy barrier solution against COVID-19. The world leader for cockpit shading systems adapts its solutions to preserve passengers' health.
Light, compact and transparent
Durable system and tear-resistant screen
Versatile solution, quick and easy to mount and dismantle
Maximization of the passenger load factor
Aeronautics certified technology
Anti-germ treatment
The system is fully compliant with EASA requirements and thus is officially Aeronautics certified.